Amnesty International opposes torture in any and all forms.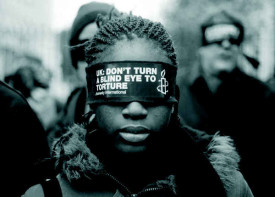 You've hung from the ceiling for hours. Your muscles scream. Electric shocks convulse your body. Water forced into your mouth. You think you're drowning. torture Rape. Mock executions. Whatever it takes to break you. To make you submit. To sign a confession, or hand over information. You're hidden away from the world's gaze. You think you are forgotten, you think you are alone.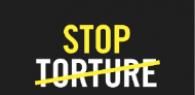 All over the world, states are torturing people just like you. Torture is not just alive and well – it is flourishing in many parts of the world as governments ignore the law and their own commitments. Unite with millions of activists to stop this barbaric practice once and for all. Group 11 supports Amnesty International's campaign against torture. Human rights activists especially interested in this issue are welcome to join us in our monthly meetings and sustain our efforts.
Take Action! The American Torture Story – The American Torture Story has been buried for far too long. Recently a 6,700 page report was released exposing human rights violations. But shockingly, the Justice Department has apparently not even read the full report. The Justice Department can't bury the truth.
More info from Amnesty International:
Demand Accountability for Torture – Everybody in the world has the right to live free from torture. Torture is never, ever justified. It is illegal, barbaric and inhumane. Torture is banned under International law, but despite this global ban, in countries all over the world – including in the U.S. – people just like you are tortured. Together we can stop it
Torture and Other Ill-Treatment – In the years since 9/11, the U.S. government has repeatedly violated both international and domestic prohibitions on torture and other cruel, inhuman or degrading treatment in the name of fighting terrorism. Torture and other cruel, inhuman or degrading treatment must stop, and those responsible for authorizing and implementing it must be held accountable.