Annual Benefit Concert
Date: Sunday, December 8, 2019, 3:00 pm
Place: Christ & St. Stephens Church, 120 West 69th Street, New York, NY
Our annual benefit concert will honor the memory of Steve Abrams, our cherished colleague in Group 11 and an international advocate for human rights.
You can order tickets online with Eventbrite, by printing out and mailing this form or by calling our box office at: 212-465-2519. Your name will be on a "will call" list at the box office on the afternoon of the concert. Please arrive by 2:45 to get your tickets. As seating is limited, please order your tickets now and tell your friends and colleagues about it. Tickets are general admission $30, seniors $20, and students $15. A color flyer for posting is available for download as well.
If you cannot come to the concert, please consider making a contribution to Group 11's essential work defending human rights using the enclosed envelope.
This is the 44th consecutive year that Group 11 of Amnesty International USA will present a benefit concert to support our activities defending human rights. The concert will take place on Sunday, December 8 at 3 PM at Christ & St. Stephen's Church, 120 West 69th Street, east of Broadway. With its fine acoustics, hearing music in this beautiful and intimate setting will be a great pleasure.
Until 2013, the concerts were produced by Carl Schachter, a founding member of Group 11 and a faculty member at the Mannes College of Music and The Juilliard School. This year we are pleased to welcome back Marcia Eckert, a well-known pianist and faculty member at Mannes, as producer of the concert.
In commemoration of Human Rights Day on December 10th, the centerpiece of the program will be Human Rights, written for chorus and jazz quartet by the French composer, Antoine Miannay. The text is based on the Universal Declaration of Human Rights of 1948. The music is beautiful and passionate; its lyrical, rhythmic and bluesy qualities create a spirited and soaring celebration of human rights in music and words. The performance, only the second in the United States, will be conducted by Claude Levy.
In observation of Human Rights Day, you will be able to sign letters at the concert urging the release of prisoners of conscience in a number of countries.
These concerts are very special events, where you can enjoy beautiful music while also advancing human rights.
Group 11 Meetings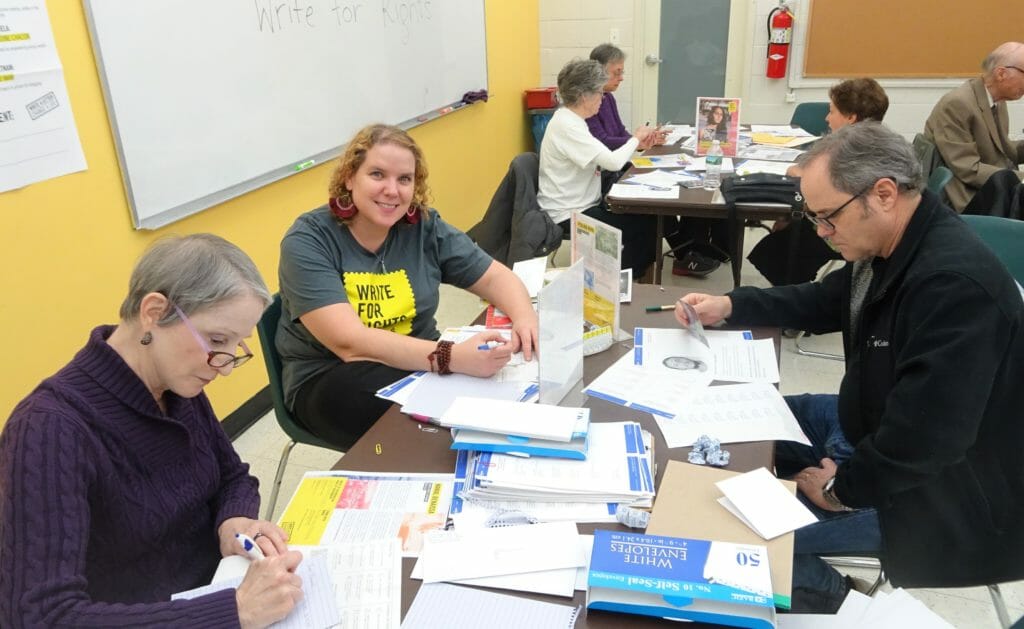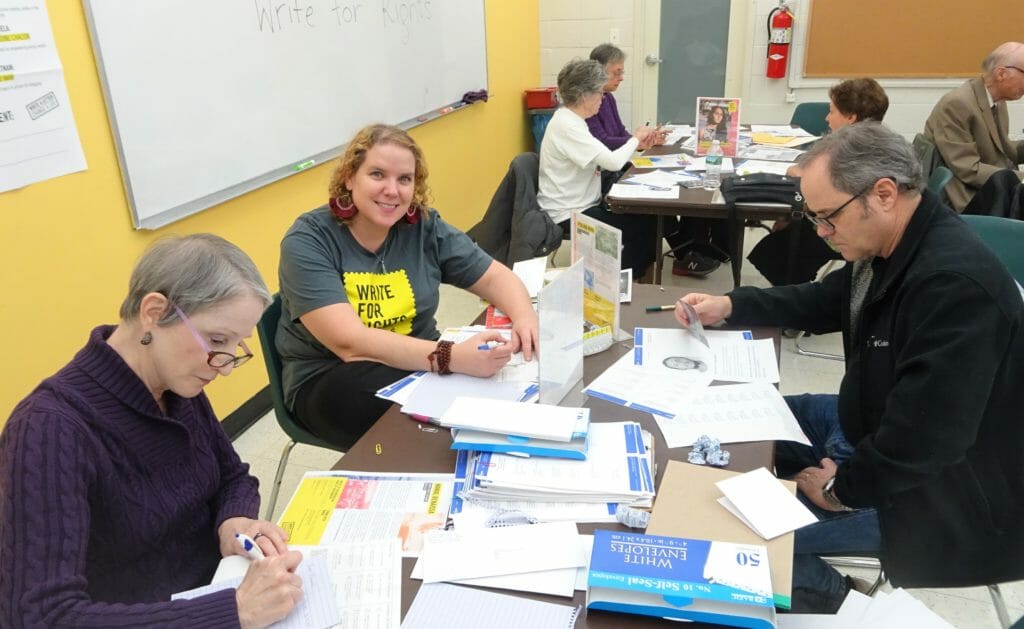 Group 11 meets on the fourth Tuesday of each month at 6:30 pm at the Goddard-Riverside Community Center, 647 Columbus between 91st and 92nd Streets. Enter on Columbus Avenue and ask for Room 9. At these meetings we review the cases and campaigns we are working on, sign prepared letters and petitions on them and discuss current human rights situations. We often have a guest speaker on a pressing human rights issue.
Prospective members are always welcome to our meetings, but we would appreciate hearing in advance if you wish to attend a meeting. You can let us know and also obtain more information about Group 11 by signing up below.
Stay in touch! Subscribe to our newsletter for updates on upcoming meetings and current cases (please see the subscription box on the right side of this page).
Write for Rights 2018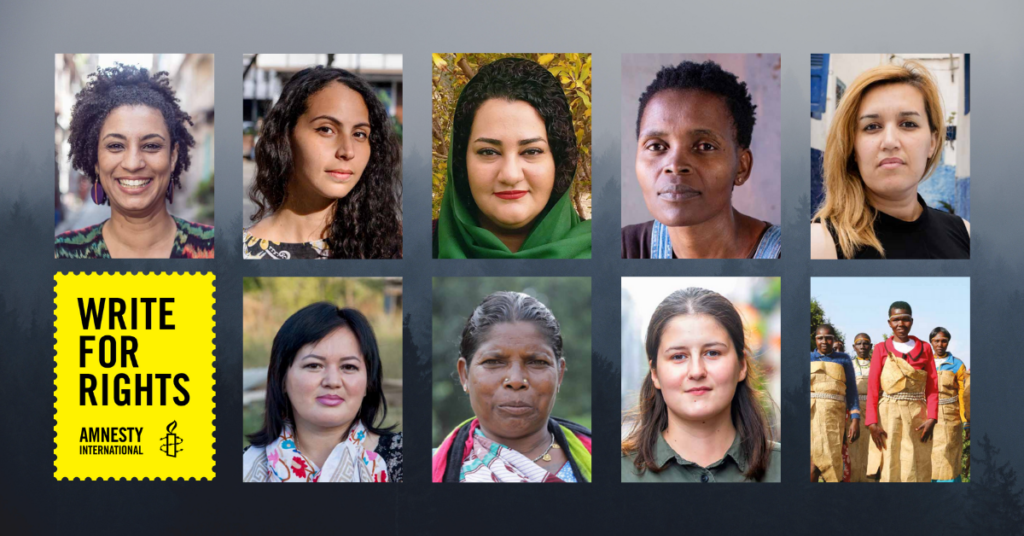 692
letters were collected during the Write for Rights campaign in 2018
Current Work: Cases
Our group is working on cases in the countries listed in the slider below. To learn more about the cases, please click a country that interests you.
Current Work: Campaigns
We are actively working on a range of Amnesty programs such as Security with Human Rights which aims to ensure national security without sacrificing human rights (our group advocates against the unlawful and abusive detention at Guantanamo and in favor of securing accountability for torture), International Criminal Court (we seek to promote greater involvement by the Court and United Nations in deterring human rights violations throughout the world), Death Penalty abolition campaign, and Women's Rights campaign.
The 2017 Individuals at Risk Case Commitment Award
In 2017 Group 11 received the Individuals at Risk Case Commitment Award for demonstrating exceptional dedication and leadership by helping to free Teodora del Carmen Vazquez, a Salvadoran women who spent 10 years in prison after giving birth to a stillborn baby. Read about Teodora and our creative campaigning on her case here.
Past Activism
One of the oldest Amnesty groups in the U.S., Group 11 has a rich history of campaigning for those who are imprisoned or face abuse and intimidation for rising against injustice. The group campaigned on behalf of prisoners of conscience, launched a series of special projects (click here to learn about the book of correspondence between Group 11's activists and a Ukrainian dissident), and participated in numerous human rights campaigns. To learn more about Group 11's past activism, please see this page, and to read about Group 11's 45 year history please click here.
Read our Blog
On February 16, AIUSA held an activist meeting for local and student groups in the NYC area. Group 11 members were excited to meet fellow activists and learn more about their projects. During the event, the participants compiled an action calendar that included all the upcoming Amnesty events in NYC area. The event also included…