Group 11 Meetings
We usually meet in person the last Tuesday evening of every month at the Goddard-Riverside Community Center, 647 Columbus Avenue at 91st St., Room 9. Due to the ongoing Coronavirus epidemic, in-person meetings are suspended and we are doing actions via U.S. postal mail.
For March 2020 you can download and modify / print the following actions:
In addition here is our annual Nowruz action (Persian New Year). Please write a brief Nowruz greeting to each person listed in the Nowruz action file on a piece of paper, then take a photo of your message and email it to Jeremy, Harry or Daria. Your greetings will be posted on Group 11's social channels: Twitter, Instagram and Facebook along with the relevant hashtags so that the prisoners of conscience and their families can find your greetings online.
Write for Rights 2020
On January 22 Group 11 held its most successful Write for Rights. Hundreds of letters on behalf of human rights defenders from 10 countries were signed. They will be added to the over 300 letters from the concert and another event.
Special thanks to:
Sandi for the magnificent organization and management.of the event
Mariana and Jan for the tasty and varied refreshments.
Todd and George (and his friends) for the music
Lara for helping with the setup
Neil for the photos
And the members, friends and family who joined in.
Coming up Fri 1/17/2020
Group 11 Annual Dinner
Members celebrated at Pearl's Chinese restaurant the evening of Tuesday, 1/7/2020. Todd Schwarz was the big raffle winner who had the closest guess as to the total # of letters sent by Group 11 in 2019.
no images were found
2019 Annual Benefit Concert
On Sunday, Dec. 8th Group 11 held its 44th Annual Benefit Concert. The approximately 200-seat Christ & St. Stephen's Church was packed. As people gathered after the performances ended, everyone seemed to agree that it was a great success. We are greatly indebted to Marcia Eckert, pianist and producer of the concert, for this success. For more info see our highlights page.
Group 11 Meetings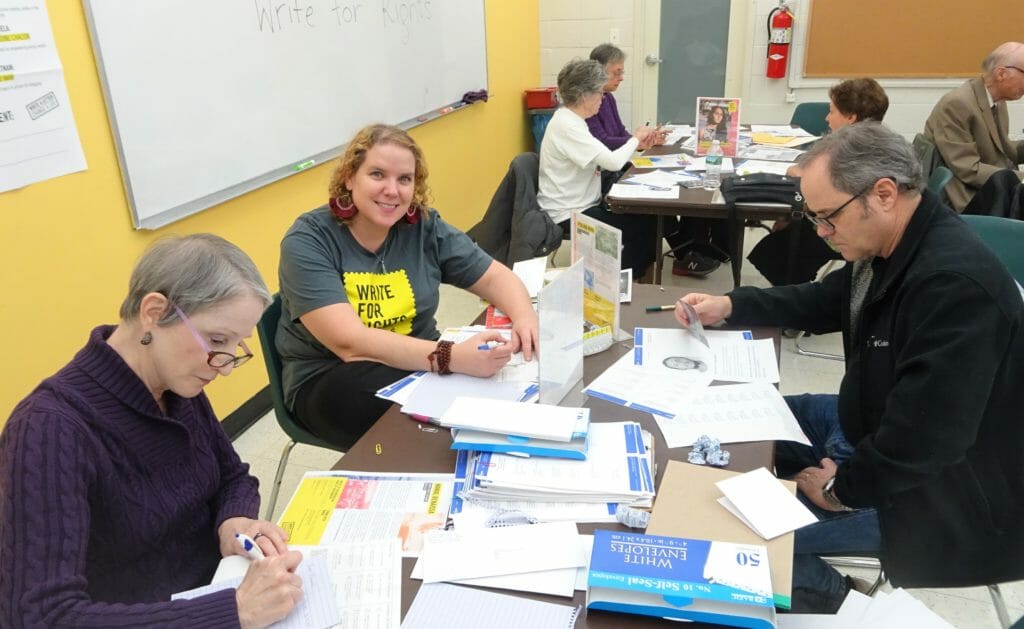 Group 11 meets on the fourth Tuesday of each month at 6:30 pm at the Goddard-Riverside Community Center, 647 Columbus between 91st and 92nd Streets. Enter on Columbus Avenue and ask for Room 9. At these meetings we review the cases and campaigns we are working on, sign prepared letters and petitions on them and discuss current human rights situations. We often have a guest speaker on a pressing human rights issue.
Prospective members are always welcome to our meetings, but we would appreciate hearing in advance if you wish to attend a meeting. You can let us know and also obtain more information about Group 11 by signing up below.
Stay in touch! Subscribe to our newsletter for updates on upcoming meetings and current cases (please see the subscription box on the right side of this page).
Current Work: Cases
Our group is working on cases in the countries listed in the slider below. To learn more about the cases, please click a country that interests you.
Current Work: Campaigns
We are actively working on a range of Amnesty programs such as Security with Human Rights which aims to ensure national security without sacrificing human rights (our group advocates against the unlawful and abusive detention at Guantanamo and in favor of securing accountability for torture), International Criminal Court (we seek to promote greater involvement by the Court and United Nations in deterring human rights violations throughout the world), Death Penalty abolition campaign, and Women's Rights campaign.
The 2017 Individuals at Risk Case Commitment Award
In 2017 Group 11 received the Individuals at Risk Case Commitment Award for demonstrating exceptional dedication and leadership by helping to free Teodora del Carmen Vazquez, a Salvadoran women who spent 10 years in prison after giving birth to a stillborn baby. Read about Teodora and our creative campaigning on her case here.
Past Activism
One of the oldest Amnesty groups in the U.S., Group 11 has a rich history of campaigning for those who are imprisoned or face abuse and intimidation for rising against injustice. The group campaigned on behalf of prisoners of conscience, launched a series of special projects (click here to learn about the book of correspondence between Group 11's activists and a Ukrainian dissident), and participated in numerous human rights campaigns. To learn more about Group 11's past activism, please see this page, and to read about Group 11's 45 year history please click here.
Read our Blog
Amnesty co-sponsored a screening of a new documentary, "American Muslim," on Friday evening, January 17, 2020 at the Jewish Community Center, Amsterdam Avenue and 76th Street in Manhattan. The film follows several Muslim activists who live in NYC and who are protesting Trump's Muslim ban. It shows life in NYC for American Muslim activists. Following…