Iran protest on 5/2/22
Presidential Elections – Ebrahim Raisi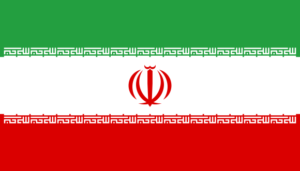 In June 2021, Ebrahim Raisi, the conservative head of the country's judicial system, became president after a campaign widely viewed as engineered to ensure his victory. Soon after, a hardline cleric, Gholam-Hossein Mohseni-Eje, was appointed as the new head of the judiciary.
Amnesty International and other human rights groups said that Raisi had a well-documented record of grave human rights violations over the past three decades, such as his role in the extrajudicial execution of thousands of political prisoners in the 1980s and violent crackdowns on anti-government protests in 2009 and 2019.
Amnesty International's Secretary General Agnès Callamard commented on the election results:
"That Ebrahim Raisi has risen to the presidency instead of being investigated for the crimes against humanity of murder, enforced disappearance, and torture, is a grim reminder that impunity reigns supreme in Iran. In 2018, our organization documented how Ebrahim Raisi had been a member of the 'death commission' which forcibly disappeared and extrajudicially executed in secret thousands of political dissidents in Evin and Gohardasht prisons near Tehran in 1988. The circumstances surrounding the fate of the victims and the whereabouts of their bodies are, to this day, systematically concealed by the Iranian authorities, amounting to ongoing crimes against humanity."
The United States has imposed sanctions on Raisi over his human rights record, and Amnesty International calls for Raisi to be investigated over human rights abuse allegations.
Women's Rights
The authorities failed to take steps to end impunity for men who kill their wives or daughters and to ensure accountability proportionate to the severity of these crimes. The so-called honor killings, child marriage, and marital rape remained widespread.
Several women's rights defenders, including Saba Kordafshari and her mother Raheleh Ahmadi, Yasaman Aryani, Mojgan Keshavarz, and others, are serving lengthy prison sentences for campaigning against forced veiling. Women and human rights lawyer Nasrin Sotoudeh, who was sentenced to 38 years in prison and 148 lashes, remains behind bars.
On 16 Sept. 2022, 22-year-old Mahsa Amini was arrested for allegedly not wearing her hijab properly. Soon after, she went into a coma and died. There is evidence that she died of injuries incurred by police. Her death has set off widespread national demonstrations.
Death Penalty
In 2020 Iran conducted at least 246 executions, increasingly using the death penalty as a weapon of political repression against protesters, dissidents, and members of minority groups (Ahwazi Arabs, Kurdish and Baluchi, as well as sexual minorities.)
COVID-19 in Prisons
The country has been hit hard by COVID-19, with the real number of cases and deaths believed to be much higher than officially reported.
In April 2020, the UN called on Iran to expand its temporary release of thousands of detainees to include prisoners of conscience and dual and foreign nationals who were still held despite the serious risk of COVID-19 infection. While a few prisoners of conscience got brief medical furloughs, the majority remained behind bars throughout the pandemic, with Nasrin Sotoudeh, Zeynab Jalalian, Esmail Abdi, and many others contracting COVID-19. Amnesty International obtained leaked documents that revealed that the Iranian government had ignored repeated pleas by senior officials responsible for managing Iran's prisons for additional resources to control the spread of COVID-19. Iranian prisons are notorious for overcrowding, poor ventilation, and lack of sanitation.
Cases Group 11 is Following
Nasrin Sotoudeh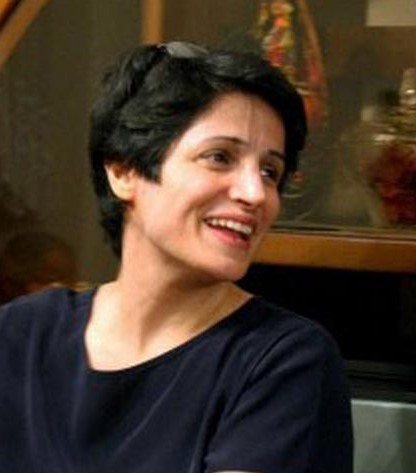 Nasrin Sotoudeh is an attorney and a human rights defender whose charges stem from her work representing opposition activists, including women prosecuted for removing their headscarves. She was sentenced to a total of 38 years and six months in prison and 148 lashes following two grossly unfair trials in 2016 and 2018. In March 2020, a prison official verbally told Nasrin Sotoudeh that she had been granted a pardon for the 2016 sentence, but she has not been formally notified about it in writing.
On 10 August 2020, imprisoned Nasrin Sotoudeh began a hunger strike in protest of the Iranian authorities' ongoing abuses in the criminal justice system. By September 19, 2020, her health had deteriorated to the extent that she had to be transferred to a hospital outside of prison. During her hospitalization, security forces barred her family from communicating with her and from access to her treating physicians or test results. Soon after being transferred to Qarchak prison, which is famous for its unsanitary conditions, Nasrin Sotoudeh contracted COVID-19. She also suffers from a severe heart condition for which she requires specialized medical care.
Esmail Abdi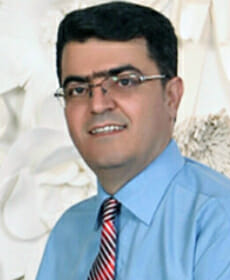 A high school math teacher and former Iran Teachers Trade Association (ITTA) Secretary General, Esmail Abdi has been serving a six-year prison sentence since November 2016 in Evin Prison in Tehran. After refusing to abide by the demands of the intelligence officials who pressured him to resign from his ITTA position and cancel planned nationwide teacher demonstrations, he was convicted of national security offenses, including "spreading propaganda against the system" and "gathering and colluding to commit crimes against national security," and sentenced to six years in prison by the Revolutionary Court in Tehran.
His trial did not adhere to international standards for fair trials. Abdi's conviction stems solely from his peaceful trade union activities, such as demonstrations against an inadequate education budget and low wages.
Since Abdi was imprisoned in 2016, his health has severely deteriorated to the extent that he was released on January 9, 2018, for medical care. However, in a few days, he was returned to prison, where he went on a hunger strike in April 2018 to protest against the harsh conditions of his imprisonment. He was released on furlough in March 2020 but was taken back to prison one month later.
Zeynab Jalalian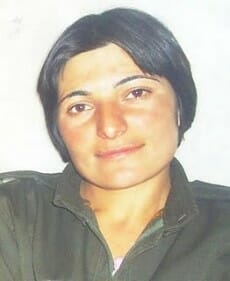 Zeynab Jalalian is a member of Iran's Kurdish minority who is currently serving a life sentence in prison following a grossly unfair trial in December 2008. The trial lasted only a few minutes and failed to meet international standards for proving that she is a member of the Kurdish militant group PJAK, which she denies. No evidence was presented linking her to armed separatists or terrorist activity. Before the trial, Zeynab Jalalian was held for eight months with no access to a lawyer, and she claims that she was physically tortured and threatened with rape.
In June 2020, Zeynab Jalalian tested positive for COVID-19 at the prison's medical clinic, where she was taken after feeling unwell and suffering from severe shortness of breath. She had been on hunger strike for six days over the authorities' refusal to transfer her to a medical center for COVID-19 related treatment. After her hospitalization, which took place only after Zeynab's case was publicized in Iran, she was forcibly disappeared and her family could not locate her whereabouts.
Zeynab Jalalian has been suffering from heart, intestinal, and kidney problems as well as an oral thrush condition. She is also at risk of losing her eyesight due to a condition for which she has been denied treatment.
AIUSA Group 11 has been working on Zeynab's case for years, writing hundreds of appeal letters to the Iranian authorities and collecting 600 signatures on a petition supporting her.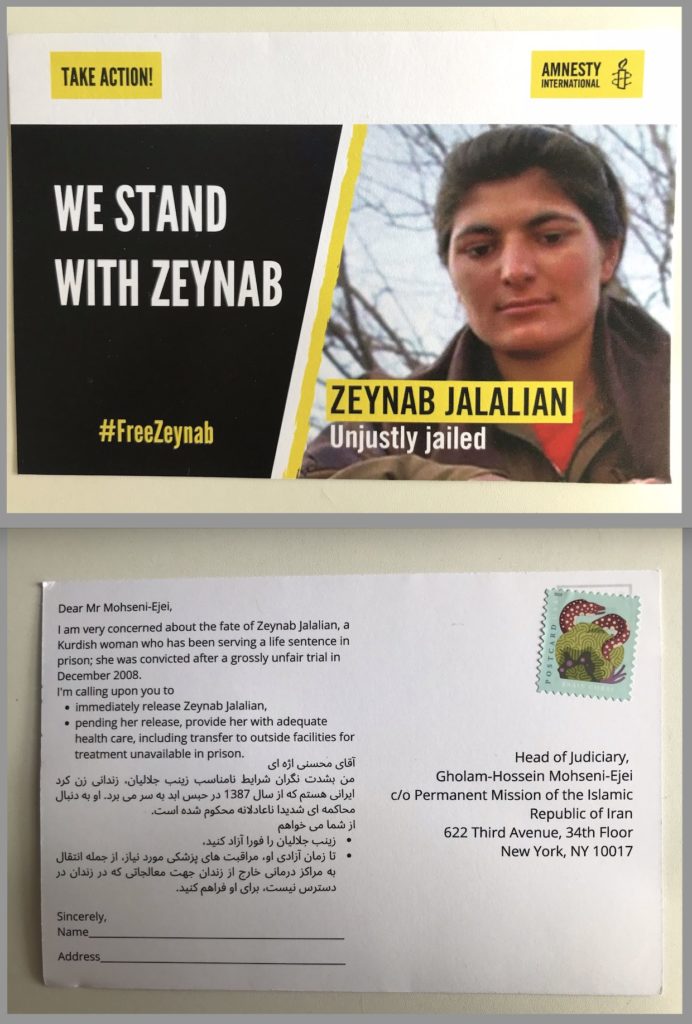 Group 11 mounted a postcard campaign on Zeynab's behalf in the Autumn of 2021